Product Description
Rubber Spider Coupling Characteristic: 
1. Performance Shock Absorber
2. Low Compression Deformation
3. Corrosion Resistance
4. Oil Resistance
5. High Pressure Resistance
6. Wear Resistance
Rubber Material Compare
E – Excellent          G – Good          F – Fair          P – Poor          
Material Properties
Property
NBR
 EPDM
CR
Silicone
FKM
NR
SBR
PU
HNBR
FVMQ
IIR
Abrasion Resistance
G
G
G
P
G
E
E
E
G
P
G
Acid Resistance
F
G
F
F
E
F
F
P
E
F
G
Chemical Resistance
F
E
F
G
E
F
F
F
G
E
E
Cold Resistance
G
G
F
E
P
G
G
G
G
G
G
Compression Set Resistance
G
G
F
G
E
G
G
F
G
G
F
Dynamic Properties
G
G
F
P
G
E
E
E
G
P
F
Electrical Properties
F
G
F
E
F
G
G
F
F
E
G
Elongation
G
G
G
F
F
F
F
F
G
F
G
Flame Resistance
P
P
G
F
E
P
P
P
P
G
P
Heat Resistance
G
G
G
E
E
F
F
F
E
E
G
Impermeability
G
G
G
P
G
F
F
G
G
P
E
Oil Resistance
E
P
F
F
E
P
P
G
E
G
P
Ozone Resistance
P
E
G
E
E
P
P
E
G
E
G
Tear Resistance
F
G
F
P
F
G
G
G
F
P
G
Tensile Strength
G
G
G
P
G
E
E
E
E
F
G
Water Resistance
G
E
F
G
F
G
G
P
E
F
G
Weather Resistance
F
E
E
E
E
F
F
E
G
E
G
Why Us:
We have a fully-equipped workshop that meets ISO 9001:2015 and IATF 16949:2016 requirements. All products are compliant
with FDA, WRAS, UL, RoHS and REACH standards, and meet DIN, JIS and ASTM regulations. Material report and dimension
checking report are available.
1. Quality Approvals. More than 15 years professional manufacture experience.
2. Experienced Staff and Service. Professional R&D team, production team, sales team, after-sales service team.
3. Product Performance and affordable cost. Superior performance with most competitive price.
4. Prompt Delivery. Faster delivery time. 
5. Small Orders Accepted.
 
Material
Rubber Metal Bonded, NR Rubber, SBR Rubber, Carbon Steel, Stailess Steel
Material Report
FDA, ROHS, UL, WRAS and REACH
Dimension
Standard Sizes or As per customers' Requirement
Certifications
ISO9001,IATF16949,ISO14001
Color
Any colors according to PANTONE or RAL
Surface Finish
Texture (VDI/MT standard, or made to client's sample), polished (high polish, mirror polish), smooth, painting, powder coating, printing, electroplating etc.
Service
Custom Made or OEM and ODM
Free Samples
Okay
Production Ways
CAD Drawing, 3D Files or Samples
Production Capacity
200T,300T and 500T Compressing Molding, Injection Molding, Auto Vacuum Vulcanizing, Plastic Injection, and Extrusion
Supplying Capacity
One Million Pieces/ Month
Tolerance
Generally±0.05mm or Better
QC
PPAP, In House Control, Third Party Inspection Institution such SGS, TUV
Lead Time
15 Days for Molding, 15-20 Days for Series Production
Application
Industry Machinery,Automotive,Mechanical Equipment, Construction, House Application,
Medical Machine
More Parts

Grommet, sleeve, feet, gasket, wheel, bellow, cap, dust cover, pad, washer, 

Strip, plug, stopper, grip, seal, bushing, bumper, blocks, and anti vibration mounts etc.
Supplying Standard and Customized Rubber & Plastic Parts
Established in 2004, Xihu (West Lake) Dis. Rubber is specialized in providing quality customized rubber molding,
extrusion parts, plastic injection products and some standard parts.
Meeting Various Standards
We have a fully-equipped workshop that meets ISO 9001:2015 and IATF 16949:2016 requirements.
Our products are compliant with FDA, WRAS, UL, RoHS and REACH standards, and meet DIN, JIS
, BS and ASTM regulations.
Parts include, but are not limited to:
Grommet, sleeve, feet, gasket, wheel, bellow, cap, dust cover, pad, washer, Strip, plug, stopper, grip,
seal, bushing, bumper, blocks, and anti vibration mounts etc.
FAQ
1. What types of rubber do you use?
Xihu (West Lake) Dis. Rubber has extensive experience in a vast range of rubber, including: Natural Rubber, SBR, CR, NBR, HNBR,
EPDM, Silicone Rubber, FPM, ACM, FK etc.
2. What types of plastic do you use?
Xihu (West Lake) Dis. Rubber has extensive experience in a vast range of plastics, including: ABS, Polypropylene (PP), PVC, POM,
PE, PEEK, Polyamide (PA) Nylons, PBT, etc.
3. What services do you provide?
We offer a broad range of services, including, Custom Rubber Molding, Liquid Injection Molding, Rubber Extrusion, and
Rubber/Plastic to Metal Bonded Parts.
4. Why us?
4.1 More than 15 years professional manufacture experience.
4.2 Professional R&D team, production team, sales team, after-sales service team.
4.3 Superior performance with most competitive price.
4.4 Faster delivery time.
5. Perfect quality control process
5.1 Raw material inspection 
      All raw materials before warehousing must be tested, and the corresponding physical property report shall be issued,
and compared with the physical property report of raw materials. Only when the test values of the 2 physical property
reports are consistent, can they be warehoused.
5.2 Mold inspection
      After mold development or cleaning, we will check the full size of the mold to ensure that the quality of each cavity is
the same.
5.3 Product inspection
      In the process of product production, inspectors regularly inspect the semi-finished products to ensure the rationality
of the process and control the defective rate within a reasonable range.
5.4 Finished product inspection
      The double inspection can ensure that the product appearance and size are 100% qualified.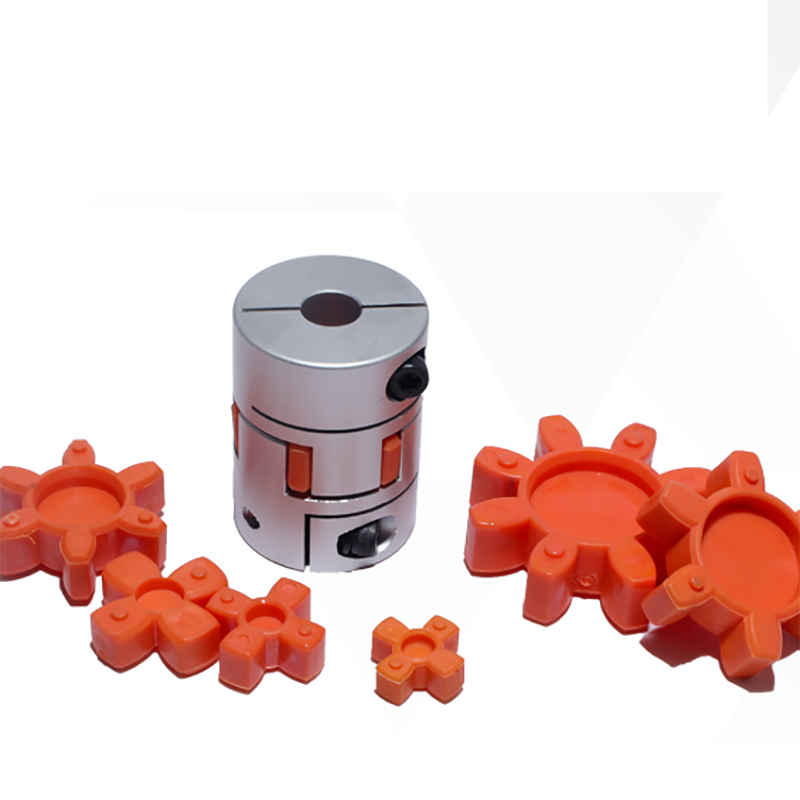 How does a spider coupling compare to other types of couplings, such as jaw couplings or gear couplings?
Spider couplings, jaw couplings, and gear couplings are all commonly used in mechanical systems for power transmission and misalignment compensation. Each type of coupling has its own unique characteristics and advantages. Here's a comparison:
Spider Couplings: Spider couplings, also known as flexible couplings or jaw/spider couplings, use an elastomeric spider to transmit torque and accommodate misalignment. They are known for their flexibility, vibration dampening, and ability to handle angular, radial, and axial misalignment. Spider couplings are suitable for a wide range of applications and are cost-effective solutions for moderate torque requirements and misalignment compensation.
Jaw Couplings: Jaw couplings consist of two hubs with curved jaws that interlock and transmit torque. They are simple to install and provide a secure connection. However, jaw couplings are less effective in accommodating misalignment compared to spider couplings. They are suitable for applications with minimal misalignment and moderate torque transmission.
Gear Couplings: Gear couplings use toothed gears to transmit torque between shafts. They are robust and capable of transmitting high torque while accommodating some misalignment. Gear couplings are often used in heavy-duty applications that require precise torque transmission and can tolerate limited misalignment.
When comparing these couplings, spider couplings stand out for their versatility in handling various types of misalignment and providing vibration dampening. Jaw couplings are simpler and suitable for applications with minimal misalignment, while gear couplings excel in heavy-duty applications with high torque requirements. The choice between these couplings depends on the specific requirements of the application, including torque, misalignment compensation, space limitations, and cost considerations.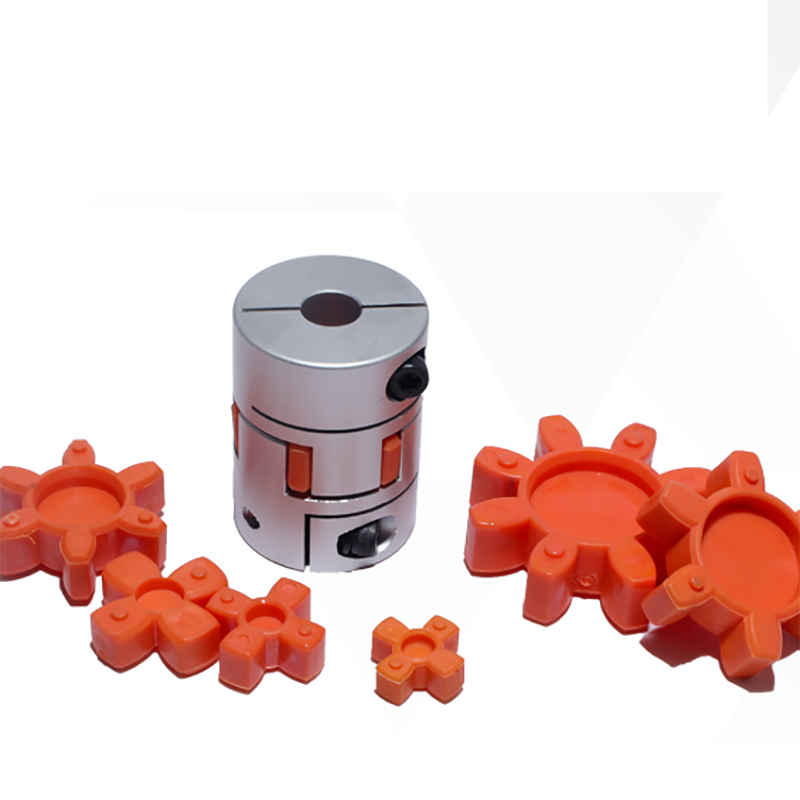 Can you explain the concept of torsional stiffness in relation to spider couplings?
Torsional stiffness is a crucial concept in the design and functionality of spider couplings. It refers to the ability of a coupling to resist rotational deformation (twisting) when subjected to a torque load. In other words, torsional stiffness measures how much a coupling can maintain its shape and transmit torque without excessive twisting or deformation.
In the context of spider couplings:
High Torsional Stiffness: A coupling with high torsional stiffness exhibits minimal angular deflection or twisting when torque is applied. This ensures accurate torque transmission and precise alignment between connected shafts. High torsional stiffness is especially important in applications that require accurate positioning and synchronization.
Low Torsional Stiffness: A coupling with low torsional stiffness allows for some degree of angular misalignment between shafts and can accommodate slight variations in torque load. This flexibility can be advantageous in applications where misalignment or shock absorption is necessary.
When selecting a spider coupling for a specific application, the torsional stiffness of the coupling needs to be considered based on the requirements of the machinery system. The choice between high and low torsional stiffness depends on factors such as the level of precision needed, the type of load, the degree of misalignment, and the overall performance objectives.
It's important to note that while torsional stiffness is a key consideration, other factors like the material of the elastomeric spider, size of the coupling, and the type of spider profile also play a role in the coupling's overall performance and behavior.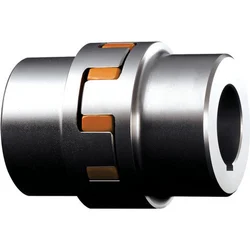 How do you properly install and maintain a spider coupling in machinery?
Installation:
Proper installation of a spider coupling is essential to ensure its optimal performance and longevity. Here are the steps for installing a spider coupling:
Ensure Safety: Before starting any installation, make sure the machinery is properly shut down and all energy sources are disconnected.
Inspect Components: Check the hubs, elastomeric spider, and shafts for any damage or debris. Ensure that the components match the correct specifications.
Align Shafts: Align the shafts to minimize initial misalignment before inserting the elastomeric spider.
Insert Spider: Place the elastomeric spider into one of the hubs, ensuring that the lobes or fins are correctly aligned with the grooves in the hub.
Align Second Hub: Carefully align the second hub with the first one, making sure the spider lobes fit into the grooves of both hubs.
Press Hubs Together: Gently press the hubs together until they meet. Avoid using excessive force, as this could damage the elastomeric spider.
Check Alignment: After installation, check the alignment of the shafts and the coupling. Misalignment should not exceed the manufacturer's recommended limits.
Tighten Fasteners: Tighten the fasteners on the hubs according to the manufacturer's torque specifications. Use a torque wrench to ensure proper tightening.
Verify Clearance: Check for proper clearance between the coupling and surrounding components to prevent interference during operation.
Run System: Start the machinery and monitor the coupling for any unusual vibrations or noise. Make any necessary adjustments if issues are detected.
Maintenance:
Maintaining a spider coupling is important to ensure its continued performance and prevent premature failure. Here are some maintenance tips:
Regular Inspection: Periodically inspect the spider coupling for signs of wear, damage, or deterioration. Look for cracks, tears, or other abnormalities in the elastomeric spider.
Clean Environment: Keep the coupling and surrounding area clean from dirt, debris, and contaminants that could impact its performance.
Lubrication: Spider couplings are self-lubricating due to the elastomeric material. Avoid using additional lubricants, as they can deteriorate the elastomeric properties.
Temperature Consideration: Be aware of the temperature range specified by the manufacturer for the elastomeric material. Extreme temperatures can affect the performance and lifespan of the coupling.
Replace Worn Parts: If the elastomeric spider shows signs of wear, replace it with a new one from the manufacturer. Do not continue using a worn or damaged spider.
Monitor Vibrations: Regularly monitor the machinery for unusual vibrations or noise, as these can indicate issues with the coupling. Address any problems promptly.
Follow Manufacturer Guidelines: Adhere to the manufacturer's recommended maintenance schedule and guidelines for the specific spider coupling model.
Proper installation and regular maintenance contribute to the reliable and efficient operation of a spider coupling in machinery.



editor by CX 2023-09-04