Product Description
XL Types High-Pressure Rubber Flexible Spider Jaw Coupling 
XL Type Flexible Spider Jaw Coupling comprises a convex claw block that can be avoided due to external constraints, internal deformation, and centrifugal impact deformation; in concave-convex claw, the pressure on the surface of the involute tooth is very small, even under overload, the tooth will not wear or deformation.
 
Flexible jaw couplings are used in power transmission of industrial equipment such as metallurgy, mining, lifting, transportation, petroleum, chemical industry, shipbuilding, textile, light industry, agricultural machinery, and industrial equipment such as pumps, fans, compressors, machine tools, gearboxes, mixers, printing machines, and conveyors.
Advantage:
Run smoothly;
Easy to install;
Compensate displacement (axial, radial, angular);
 XL Star Type Flexible Coupling Main Dimension:
Type
Nominal torque
Tn/N·m
Shaft hole diameter
L
 
D
D1
B1
S
d1,d2
Y
J1,Z1
XL1
20
6,7
18
–
40
32
12
2
8,9
22
–
10,11
25
22
12,14
32
27
16,18,19
42
30
XL2
71
8,9
22
–
55
40
14
10,11
25
22
12,14
32
27
16,18,19
42
30
20,22,24
52
38
XL3
200
10,11
25
22
65
48
15
2.5
12,14
32
27
16,18,19
42
30
20,22,24
52
38
25,28
62
44
XL4
400
12,14
32
27
80
66
18
3
16,18,19
42
30
20,22,24
52
38
25,28
62
44
30,32,35,38
82
60
XL5
560
14
32
27
95
75
20
16,18,19
42
30
20,22,24
52
38
25,28
62
44
30,32,35,38
82
60
40,42
112
84
XL6
630
16,18,19
42
30
105
85
21
3.5
20,22,24
52
38
25,28
62
44
30,32,35,38
82
60
40,42,45,48
112
84
XL7
800
20,22,24
52
38
120
98
22
4
25,28
62
44
30,32,35,38
82
60
40,42,45,48,50,55
112
84
XL8
900
22,24
52
38
135
115
26
4.5
25,28
62
44
30,32,35,38
82
60
40,42,45,48,50,55
112
84
60,63,65
142
107
XL9
2000
30,32,35,38
82
60
160
135
30
5
40,42,45,48,50,55,56
112
84
60,63,65,70,71,75
142
107
XL10
5000
40,42,45,48,50,55,56
112
84
200
160
34
5.5
60,63,65,70,71,75
142
107
80,85,90
172
132
XL11
7100
50,55,56
112
84
225
180
38
6
60,63,65,70,71,75
142
107
80,85,90,95
172
132
100
212
167
XL12
8000
60,63,65,70,71,75
142
107
255
200
42
6.5
80,85,90,95
172
132
100,110
212
167
XL13
10000
60,63,65,70,71,75
142
107
290
230
46
7
80,85,90,95
172
132
100,110,120,125
212
167
XL14
14000
60,63,65,70,71,75
142
107
320
255
50
7.5
80,85,90,95
172
132
100,110,120,125
212
167
130,140
252
202
XL15
20000
80,85,90,95
172
132
370
290
57
9
100,110,120,125
212
167
130,140,150
252
202
160
302
242
XL16
25000
85,90,95
172
132
420
325
64
10.5
100,110,120,125
212
167
130,140,150
252
202
160,170,180
302
242
Product Show:

♦Other Products List
Transmission Machinery 
Parts Name
Model
Universal Coupling
WS, WSD, WSP
Cardan Shaft
SWC, SWP, SWZ
Tooth Coupling
CL, CLZ, GCLD, GIICL,
GICL, NGCL, GGCL, GCLK
Disc Coupling
JMI, JMIJ, JMII, JMIIJ
High Flexible Coupling
LM
Chain Coupling
GL
Jaw Coupling
LT
Grid Coupling
JS
♦Our Company
Our company supplies different kinds of products. High quality and reasonable price. We stick to the principle of "quality first, service first, continuous improvement and innovation to meet the customers" for the management and "zero defect, zero complaints" as the quality objective. To perfect our service, we provide products of good quality at a reasonable price.
Welcome to customize products from our factory and please provide your design drawings or contact us if you need other requirements.
♦Our Services
1. Design Services
Our design team has experience in coupling relating to product design and development. If you have any needs for your new product or wish to make further improvements, we are here to offer our support.
2. Product Services
raw materials → Cutting → Forging →Rough machining →Shot blasting →Heat treatment →Testing →Fashioning →Cleaning→ Assembly→Packing→Shipping
3. Samples Procedure
We could develop the sample according to your requirement and amend the sample constantly to meet your need.
4. Research & Development
We usually research the new needs of the market and develop new models when there are new cars in the market.
5. Quality Control
Every step should be a special test by Professional Staff according to the standard of ISO9001 and TS16949.
♦FAQ
Q 1: Are you a trading company or a manufacturer?
A: We are a professional manufacturer specializing in manufacturing
various series of couplings.
Q 2:Can you do OEM?
Yes, we can. We can do OEM & ODM for all the customers with customized artwork in PDF or AI format.
Q 3:How long is your delivery time?
Generally, it is 20-30 days if the goods are not in stock. It is according to quantity.
Q 4: Do you provide samples? Is it free or extra?
Yes, we could offer the sample but not for free. Actually, we have an excellent price principle, when you make the bulk order then the cost of the sample will be deducted.
Q 5: How extended is your warranty?
A: Our Warranty is 12 months under normal circumstances.
Q 6: What is the MOQ?
A: Usually our MOQ is 1pcs.
Q 7: Do you have inspection procedures for coupling?
A:100% self-inspection before packing.
Q 8: Can I have a visit to your factory before the order?
A: Sure, welcome to visit our factory.
Q 9: What's your payment?
A:1) T/T. 
♦Contact Us
Web: huadingcoupling
Add: No.11 HangZhou Road,Chengnan park,HangZhou City,ZheJiang Province,China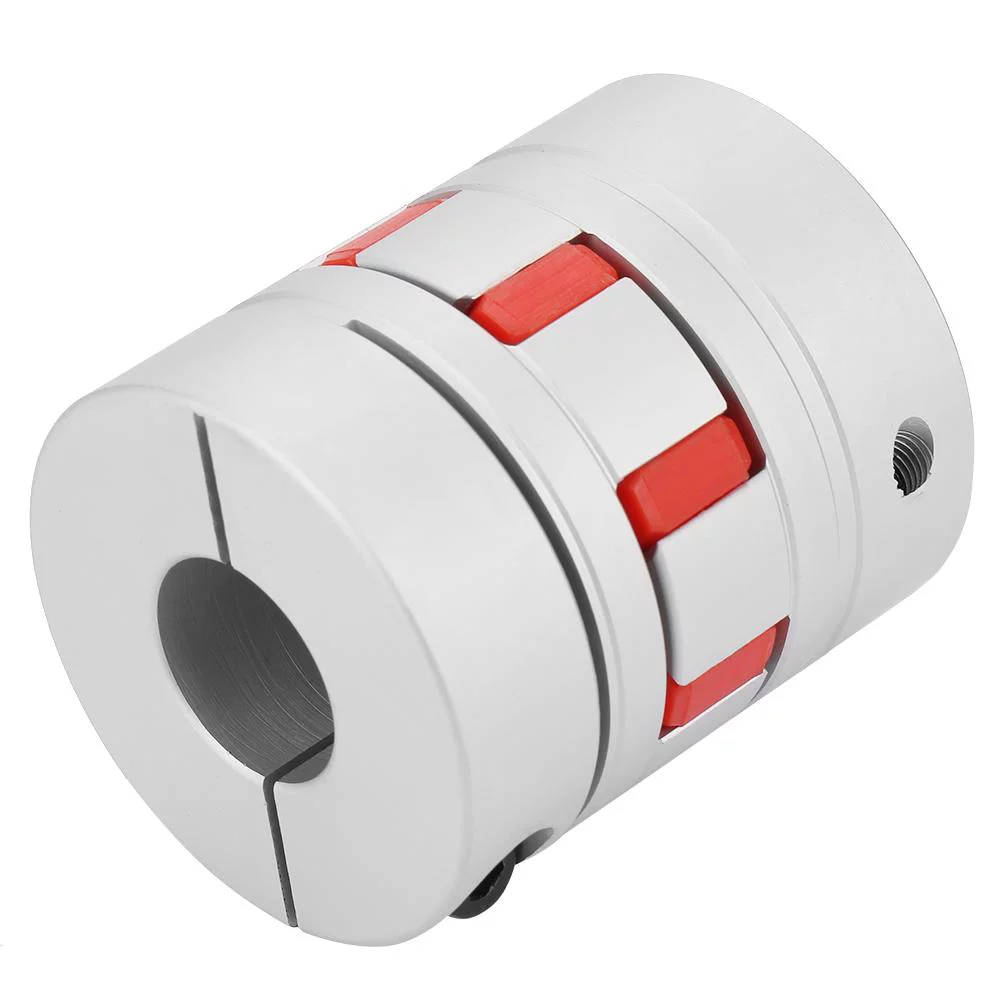 What are the common challenges associated with spider coupling misalignment and how can they be addressed?
Misalignment is a common challenge in spider couplings that can lead to reduced efficiency, increased wear, and potential coupling failure. Here are the common challenges associated with misalignment and how they can be addressed:
Reduced Torque Transmission: Misalignment can decrease the effective torque transmitted between the shafts, leading to inefficiency and potential overload. Regularly check and align the shafts according to the manufacturer's recommendations to ensure proper torque transmission.
Vibration and Noise: Misalignment can cause excessive vibrations and noise in the machinery. Implement precision alignment techniques during installation to minimize misalignment-induced vibrations and noise.
Increased Wear: Misalignment results in uneven loading on the elastomeric spider, causing premature wear and potential failure. Regularly inspect the coupling for signs of wear and replace the elastomeric spider if necessary. Address misalignment promptly to prevent excessive wear.
Heat Generation: Misalignment can generate heat due to friction between the elastomeric spider and the hubs. This can lead to accelerated wear and reduced coupling lifespan. Proper alignment helps minimize heat generation and associated issues.
Shaft Fatigue: Severe misalignment can induce shaft fatigue and stress concentrations, leading to shaft failure over time. Avoid excessive misalignment and ensure that the coupling is properly aligned during installation.
Reduced Service Life: Misalignment puts additional stress on the elastomeric spider, reducing its service life. Proper alignment and maintenance practices can extend the service life of the coupling.
Performance Variations: Misalignment can lead to variations in performance and inconsistent operation of the machinery. Regularly monitor the coupling's performance and address any issues promptly to ensure consistent operation.
To address these challenges, it's crucial to prioritize precision alignment during the installation of the spider coupling. Follow the manufacturer's guidelines for alignment tolerances and use alignment tools and techniques to achieve accurate alignment. Regular maintenance, including inspections and alignment checks, will help mitigate the negative effects of misalignment and ensure the reliable performance of spider couplings in industrial applications.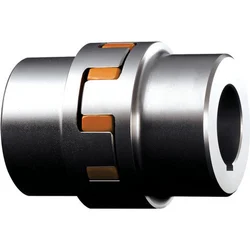 What are the symptoms of spider coupling wear or deterioration, and how can they be identified?
Spider couplings, like other mechanical components, can experience wear and deterioration over time due to factors such as torque, misalignment, and environmental conditions. Identifying the symptoms of wear is crucial for maintaining coupling performance and preventing unexpected failures. Here are some common symptoms of spider coupling wear and deterioration:
Vibration and Noise: Increased vibration or unusual noise during operation can indicate wear in the spider coupling. Excessive wear can lead to reduced dampening of vibrations and increased noise levels.
Reduced Torque Transmission: If the coupling is no longer transmitting torque efficiently, it may indicate wear or damage to the elastomeric spider. Reduced torque transmission can result in decreased equipment performance.
Visible Cracks or Tears: Inspect the elastomeric spider for visible cracks, tears, or signs of deformation. These issues can lead to uneven load distribution and compromised coupling function.
Uneven Shaft Movement: Misalignment caused by wear can lead to uneven movement of connected shafts. This can be observed through irregular motion or wobbling during operation.
Increased Heat Generation: If the coupling is generating more heat than usual, it may indicate excessive friction due to wear. Overheating can accelerate wear and affect coupling performance.
Irregular Performance: If machinery or equipment connected by the coupling experiences irregular or unpredictable behavior, it could be a sign of coupling wear affecting torque transmission.
To identify these symptoms, regular visual inspections, vibration analysis, and performance monitoring are recommended. If any of these symptoms are observed, it's advisable to replace the worn or damaged spider coupling with a new one. Routine maintenance and timely replacement can help ensure the continued reliability and performance of spider couplings in mechanical systems.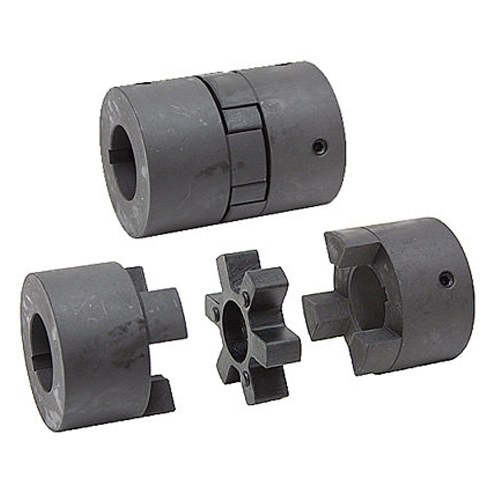 What is a spider coupling and how is it used in mechanical systems?
A spider coupling, also known as a jaw coupling or elastomeric coupling, is a type of flexible coupling used to connect two shafts while accommodating misalignment and transmitting torque between them. It consists of three main components: two hubs and an elastomeric spider or insert that fits between them.
The elastomeric spider is typically made of a flexible and durable material, such as rubber or polyurethane, with a series of lobes or fins that fit into matching grooves on the inner surfaces of the hubs. These lobes allow the spider to flex and absorb misalignments between the connected shafts while transmitting torque.
The spider coupling is used in mechanical systems to:
Transmit Torque: The primary function of a spider coupling is to transmit torque from one shaft to another. As the shafts rotate, the elastomeric spider deforms slightly, allowing the hubs to move relative to each other while maintaining torque transmission.
Accommodate Misalignment: Spider couplings can accommodate different types of misalignment, including angular, axial, and parallel misalignments, without causing excessive stress on the connected components. This flexibility helps prevent premature wear and failure.
Dampen Vibrations: The elastomeric material of the spider acts as a shock absorber, dampening vibrations and reducing the transmission of vibrations between the connected shafts. This can improve overall system performance and reduce wear on components.
Isolate Shock Loads: In applications with sudden changes in torque or shock loads, the spider coupling can absorb and dampen these shocks, protecting the connected components from damage.
Reduce Maintenance: Spider couplings require minimal maintenance due to their simple design and absence of lubrication points. This can lead to reduced downtime and maintenance costs in industrial machinery.
Provide Electric Insulation: Spider couplings can provide electrical isolation between the connected shafts, making them suitable for applications where electrical grounding needs to be minimized.
Spider couplings are commonly used in various machinery and equipment, such as pumps, compressors, conveyors, fans, and industrial machinery. They are particularly well-suited for applications that require flexibility, misalignment compensation, vibration reduction, and ease of maintenance.



editor by CX 2023-10-17