Product Description
1111111111111111111111111111111111111111111111111111111111111111111111111111111111111111111111111111111111111111111111111111
| | | | | | | |
| --- | --- | --- | --- | --- | --- | --- |
| Item No. | φD | L | L1 | W | M | Tighten the strength(N.m) |
| SG7-11-30- | 30 | 50 | 18.5 | 13 | M3(4) | 1.2 |
| SG7-11-40- | 40 | 66 | 25 | 16 | M4(6) | 2.7 |
| SG7-11-55- | 55 | 78 | 30 | 18 | M5(4) | 6 |
| SG7-11-65- | 65 | 90 | 35 | 20 | M5(6) | 6 |
| SG7-11-80- | 80 | 114 | 45 | 24 | M6(8) | 10 |
| SG7-11-95- | 95 | 126 | 50 | 26 | M8(4) | 35 |
| SG7-11-105- | 105 | 140 | 56 | 28 | M8(4) | 35 |
111111111111111111111111111111111111111111111111111111111111111111111111111111111111111111111111111111111111111111111111111111111111111111111111111111111111111111111111111111111111111111111111111111111111111111111111
| | | | | | | | | |
| --- | --- | --- | --- | --- | --- | --- | --- | --- |
| Item No. | Rated torque | Maximum Torque | Max Speed | Inertia Moment | N.m rad | Tilting Tolerance | End-play | Weight:(g) |
| SG7-11-30- | 7.4N.m | 14.8N.m | 20000prm | 8.7×10-4kg.m² | 510N.m/rad | 1.0c | +0.6mm | 50 |
| SG7-11-40- | 9.5N.m | 19N.m | 15000prm | 1.12×10-3kg.m² | 550N.m/rad | 1.0c | +0.8mm | 120 |
| SG7-11-55- | 34N.m | 68N.m | 13000prm | 4.5×10-3kg.m² | 1510N.m/rad | 1.0c | +0.8mm | 280 |
| SG7-11-65- | 95N.m | 190N.m | 10500prm | 9.1×10-3kg.m² | 2800N.m/rad | 1.0c | +0.8mm | 450 |
| SG7-11-80- | 135N.m | 270N.m | 8600prm | 1.9×10-2kg.m² | 3600N.m/rad | 1.0c | +1.0mm | 960 |
| SG7-11-95- | 230N.m | 460N.m | 7500prm | 2.2×10-2kg.m² | 4700N.m/rad | 1.0c | +1.0mm | 2310 |
| SG7-11-105- | 380N.m | 760N.m | 6000prm | 3.3×10-2kg.m² | 5800N.m/rad | 1.0c | +1.0mm | 3090 |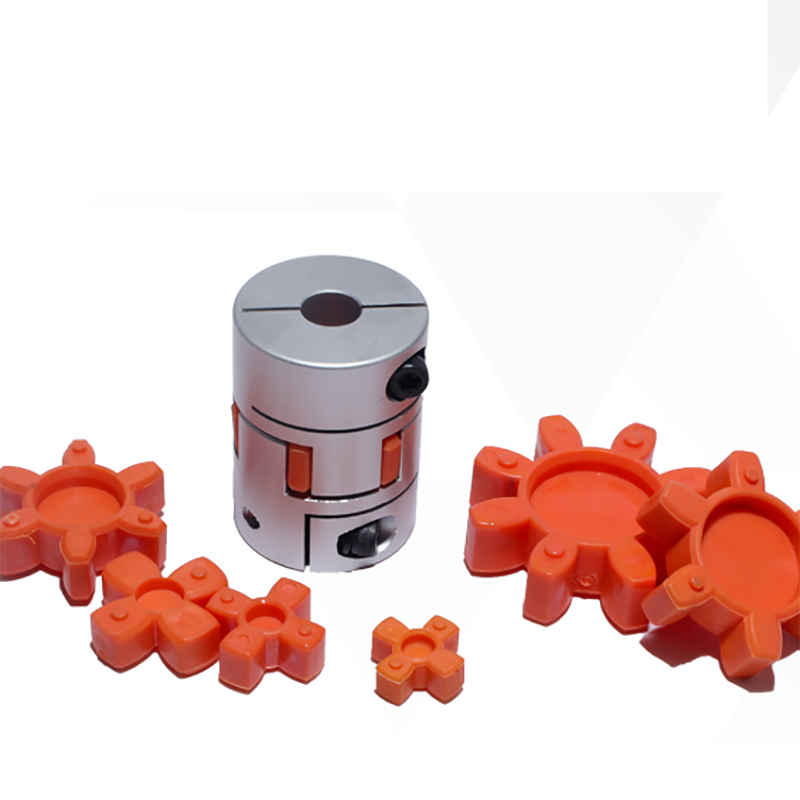 How does a spider coupling compare to other types of couplings, such as jaw couplings or gear couplings?
Spider couplings, jaw couplings, and gear couplings are all commonly used in mechanical systems for power transmission and misalignment compensation. Each type of coupling has its own unique characteristics and advantages. Here's a comparison:
Spider Couplings: Spider couplings, also known as flexible couplings or jaw/spider couplings, use an elastomeric spider to transmit torque and accommodate misalignment. They are known for their flexibility, vibration dampening, and ability to handle angular, radial, and axial misalignment. Spider couplings are suitable for a wide range of applications and are cost-effective solutions for moderate torque requirements and misalignment compensation.
Jaw Couplings: Jaw couplings consist of two hubs with curved jaws that interlock and transmit torque. They are simple to install and provide a secure connection. However, jaw couplings are less effective in accommodating misalignment compared to spider couplings. They are suitable for applications with minimal misalignment and moderate torque transmission.
Gear Couplings: Gear couplings use toothed gears to transmit torque between shafts. They are robust and capable of transmitting high torque while accommodating some misalignment. Gear couplings are often used in heavy-duty applications that require precise torque transmission and can tolerate limited misalignment.
When comparing these couplings, spider couplings stand out for their versatility in handling various types of misalignment and providing vibration dampening. Jaw couplings are simpler and suitable for applications with minimal misalignment, while gear couplings excel in heavy-duty applications with high torque requirements. The choice between these couplings depends on the specific requirements of the application, including torque, misalignment compensation, space limitations, and cost considerations.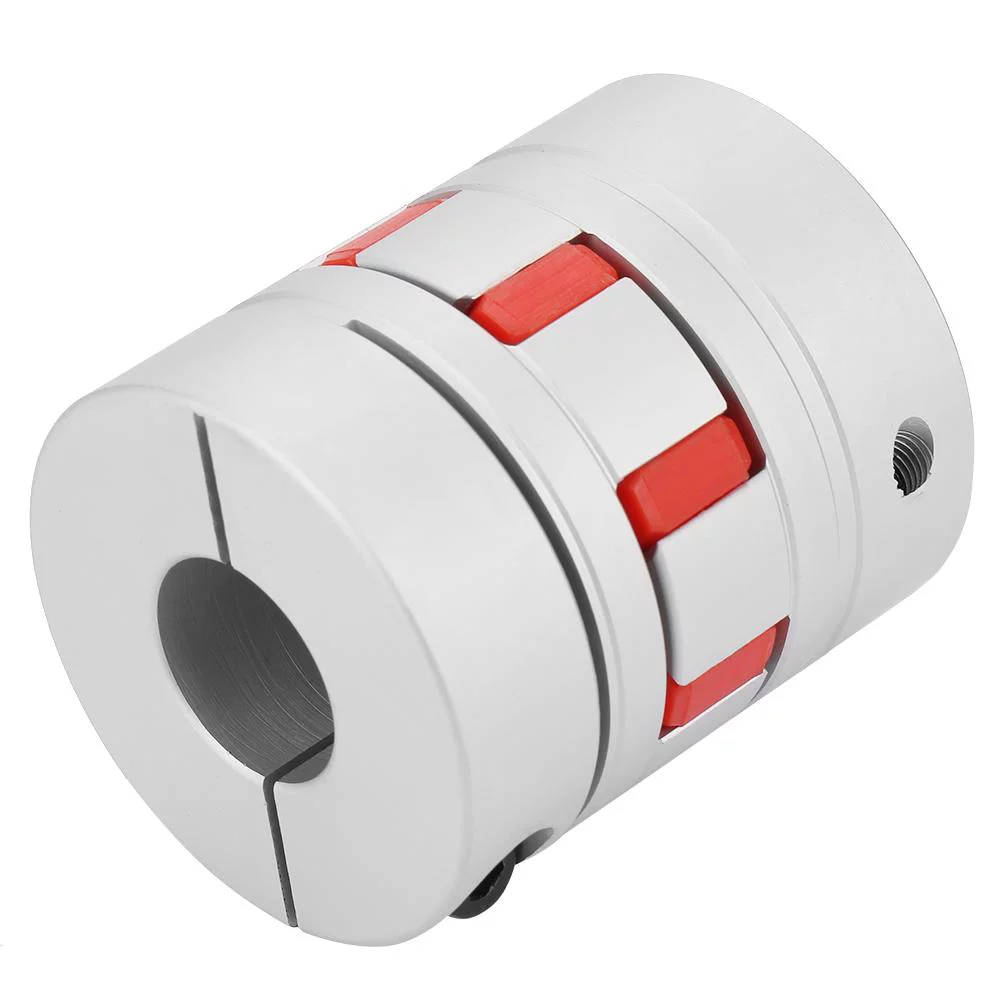 Are there any specific maintenance practices for ensuring the longevity of spider couplings?
Yes, implementing proper maintenance practices is crucial for ensuring the longevity and optimal performance of spider couplings. Here are some specific maintenance practices to consider:
Regular Inspections: Conduct routine visual inspections of the coupling to identify any signs of wear, damage, or misalignment. Regular inspections allow you to detect issues early and address them before they escalate.
Lubrication: Follow the manufacturer's recommendations for lubrication intervals and use the appropriate lubricant. Proper lubrication reduces friction, prevents excessive wear, and maintains coupling efficiency.
Alignment Checks: Ensure that the shafts connected by the coupling are properly aligned. Misalignment can accelerate wear and compromise coupling performance. Regular alignment checks are essential, especially after maintenance or changes in operating conditions.
Torque Checks: Periodically check the torque values of fasteners such as bolts, nuts, and screws that secure the coupling components. Proper torque ensures the coupling remains securely fastened.
Temperature Monitoring: Monitor the operating temperature of the coupling during normal operation. Abnormally high temperatures can indicate excessive friction and potential issues with the coupling.
Environmental Considerations: If the machinery is operating in harsh or corrosive environments, take appropriate measures to protect the coupling from contaminants, chemicals, and moisture.
Replacement of Elastomeric Spider: The elastomeric spider is a critical component of the coupling. Replace it if you notice signs of wear, cracks, tears, or deformation. Follow the manufacturer's recommended replacement intervals.
Documentation: Maintain records of maintenance activities, inspections, and any repairs performed on the coupling. This documentation helps track the history of the coupling and informs future maintenance decisions.
Training and Education: Ensure that maintenance personnel are trained in proper coupling maintenance practices. This includes handling, installation, and lubrication procedures.
By adhering to these maintenance practices, you can extend the lifespan of spider couplings, reduce the likelihood of unexpected failures, and ensure the continued reliability of machinery systems.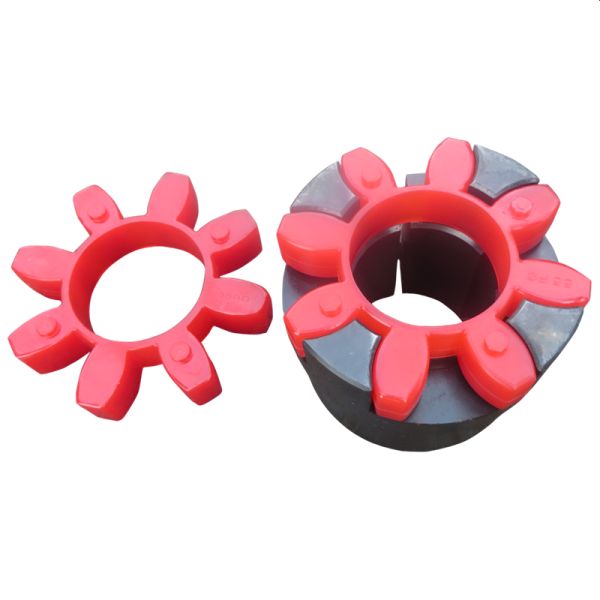 What factors should be considered when selecting a spider coupling for a specific application?
Choosing the right spider coupling for a specific application requires careful consideration of various factors to ensure optimal performance and reliability. Here are the key factors to consider:
Torque Requirements: Determine the torque that the coupling needs to transmit between the shafts. Select a spider coupling that can handle the required torque without exceeding its limitations.
Misalignment Compensation: Assess the type and degree of misalignment that the coupling needs to accommodate. Different spider coupling designs offer varying levels of misalignment compensation.
Operating Conditions: Consider the operating environment, including temperature, humidity, and exposure to chemicals or contaminants. Choose a spider coupling with elastomeric material that can withstand these conditions.
Shaft Diameters: Measure the diameters of the connected shafts. Ensure that the selected spider coupling matches the shaft sizes to achieve a secure and reliable fit.
Space Limitations: Evaluate the available space for installing the coupling. Choose a compact spider coupling design that fits within the available dimensions.
Shaft Speed: Determine the rotational speed of the shafts. Ensure that the selected spider coupling can handle the speed range without causing excessive wear or vibrations.
Vibration Dampening: If vibration reduction is a priority, select a spider coupling with elastomeric material that offers effective vibration dampening properties.
Electrical Isolation: In applications where electrical isolation is necessary, choose a spider coupling with electrically insulating properties to prevent current transmission between shafts.
Chemical Compatibility: If the machinery operates with specific chemicals or fluids, ensure that the elastomeric material of the coupling is compatible with these substances.
Cost Consideration: Evaluate the budget available for the coupling. Consider both the upfront cost and the potential savings from reduced maintenance and downtime.
Manufacturer Reputation: Choose spider couplings from reputable manufacturers known for producing high-quality and reliable products.
Application Type: Different industries and applications have unique requirements. Consider the specific demands of the application, such as pumps, compressors, conveyors, etc.
By carefully evaluating these factors, you can select a spider coupling that best matches the requirements of your application, ensuring efficient power transmission, misalignment compensation, and overall system performance.



editor by CX 2023-09-06