Product Description
Construction Machinery Flexible Spider Rubber Coupling For construction hoist elevator
Product Description
Model

Rated Torque

Tn

Allowable Rotation Speed

Bore Diameter

d1 , d2 , dz 

Bore Length

L, L1

Weight

 
N.m
r/min
mm
mm
kg

CLSJ50

28

15000

10-24

22-38

1.00

CLSJ70

112

11000

12-38

27-60

2.50

CLSJ85

160

9000

16-38

30-60

3.42

CLSJ105

355

7250

18-42

30-84

5.15

CLSJ125

450

6000

20-55

38-84

10.1

CLSJ145

710

5250

25-65

44-107

13.1

CLSJ170

1250

4500

30-85

60-132

21.2

CLSJ200

2000

3750

35-95

60-142

33.0

CLSJ230

3150

3250

40-95

84-142

45.5

CLSJ260

5000

3000

45-125

84-172

75.2

CLSJ300

7100

2500

60-140

108-172

99.2

CLSJ360

12500

2150

60-150

107-212

148.1

CLSJ400

14000

1900

80-160

132-242

197.5
why choose our product
Cheaper price than CHINAMFG brands, good quality.
FAQ
1. What are your main products?
We produce Construction Hoist (also called construction elevator, construction lift) and spare parts of it.
2. Are all Construction Hoist the same from all Vendors & Manufacturers?
Our High rise building construction hoist with VFD for lifting materials and passengers have exported to Europe, Middle and southern America, most of Asia, and some countries from Africa, about 50 countries. We can well match European standards, Russia standards and America standards. We have technology for develope new design ability and we support many customer with good solutions to solve their construction site special vertical access problems.
3. Do your products have some certificates?
Yes. Our Construction Hoist have passed CE ,ISO  Certificates.
4. What are the payment terms and the delivery time?
Payment terms are T/T and LC. We will ship the cargo within 7-21 days after receiving the 30% deposit.
5. Are you manufacturer or the trader?
We are manufacturer with 17 years maker experiences, have advanced production line and inspection device. Our Research and development team have got many praise from customers.
6. Will you develop distributor and sole agent?
Yes, should you have any interest to be our distributor and agent, please let us know in any ways. Sole agent is available depend on the sales turnover.
7. Where do you ship to and what countries have you done business in?
We provide quick and efficient shipping to countries all over the world from HangZhou port or other China port.
We have done business with customers in many countries, such as Mexico, Brazil, Korea, Malaysia, Thailand, India, Vietnam, Indonesia, UAE, Qatar, Kuwait,Saudi Arabia etc.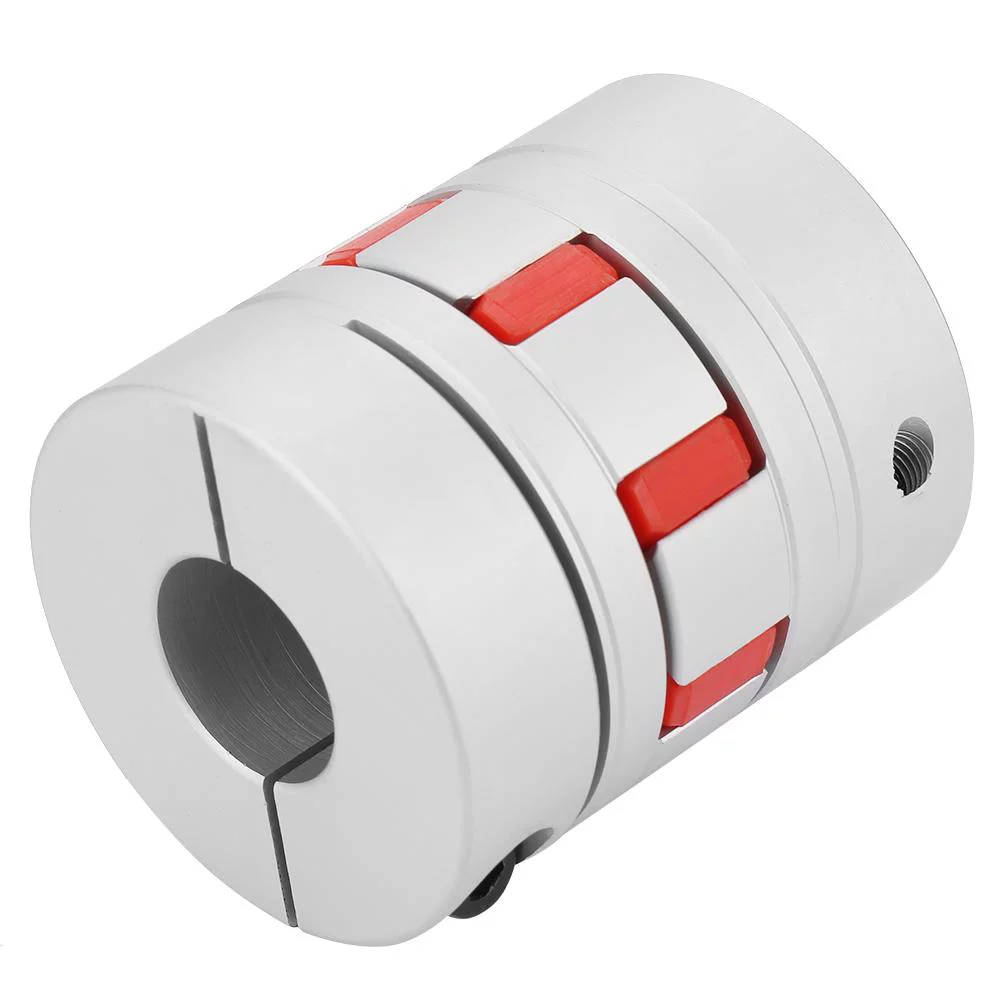 What are the common challenges associated with spider coupling misalignment and how can they be addressed?
Misalignment is a common challenge in spider couplings that can lead to reduced efficiency, increased wear, and potential coupling failure. Here are the common challenges associated with misalignment and how they can be addressed:
Reduced Torque Transmission: Misalignment can decrease the effective torque transmitted between the shafts, leading to inefficiency and potential overload. Regularly check and align the shafts according to the manufacturer's recommendations to ensure proper torque transmission.
Vibration and Noise: Misalignment can cause excessive vibrations and noise in the machinery. Implement precision alignment techniques during installation to minimize misalignment-induced vibrations and noise.
Increased Wear: Misalignment results in uneven loading on the elastomeric spider, causing premature wear and potential failure. Regularly inspect the coupling for signs of wear and replace the elastomeric spider if necessary. Address misalignment promptly to prevent excessive wear.
Heat Generation: Misalignment can generate heat due to friction between the elastomeric spider and the hubs. This can lead to accelerated wear and reduced coupling lifespan. Proper alignment helps minimize heat generation and associated issues.
Shaft Fatigue: Severe misalignment can induce shaft fatigue and stress concentrations, leading to shaft failure over time. Avoid excessive misalignment and ensure that the coupling is properly aligned during installation.
Reduced Service Life: Misalignment puts additional stress on the elastomeric spider, reducing its service life. Proper alignment and maintenance practices can extend the service life of the coupling.
Performance Variations: Misalignment can lead to variations in performance and inconsistent operation of the machinery. Regularly monitor the coupling's performance and address any issues promptly to ensure consistent operation.
To address these challenges, it's crucial to prioritize precision alignment during the installation of the spider coupling. Follow the manufacturer's guidelines for alignment tolerances and use alignment tools and techniques to achieve accurate alignment. Regular maintenance, including inspections and alignment checks, will help mitigate the negative effects of misalignment and ensure the reliable performance of spider couplings in industrial applications.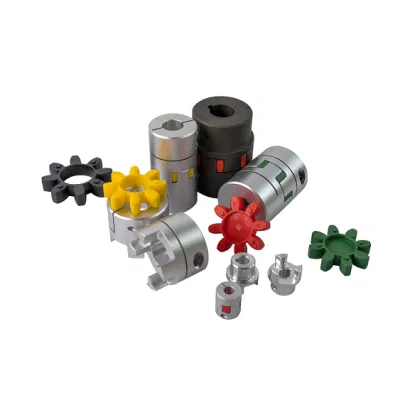 What are the best practices for ensuring proper lubrication of spider couplings?
Proper lubrication is essential for maintaining the performance and lifespan of spider couplings. Here are some best practices to ensure proper lubrication:
Use the Right Lubricant: Select a lubricant that is recommended by the coupling manufacturer. The lubricant should be compatible with the elastomeric spider material and the operating conditions of the machinery.
Follow Manufacturer's Guidelines: Adhere to the lubrication schedule and guidelines provided by the manufacturer. They will specify the appropriate lubrication intervals and the quantity of lubricant to be applied.
Clean the Components: Before applying lubricant, make sure the coupling components are clean and free of dirt, debris, and old lubricant residues. Cleaning the components prevents contamination of the new lubricant.
Apply Lubricant Evenly: Apply the lubricant evenly on all contact surfaces of the elastomeric spider and the coupling hub. Avoid over-lubrication, which can lead to excess buildup and potential slippage.
Use Lubrication Tools: Some couplings may have lubrication ports or fittings that facilitate the application of lubricant. If such features are present, use the appropriate lubrication tools to ensure thorough coverage.
Operate Coupling After Lubrication: After applying lubricant, operate the coupling for a short period to ensure that the lubricant is evenly distributed across the contact surfaces. This helps in preventing dry spots and optimizing lubrication effectiveness.
Monitor Lubricant Condition: Regularly inspect the condition of the lubricant during routine maintenance checks. If you notice signs of contamination, degradation, or insufficient lubrication, take corrective actions promptly.
Consider Operating Conditions: Environmental factors such as temperature, humidity, and exposure to chemicals can affect the performance of lubricants. Choose a lubricant that can withstand the specific operating conditions of the machinery.
Document Lubrication Activities: Keep a record of lubrication activities, including the type of lubricant used, lubrication intervals, and the results of lubrication checks. This documentation helps track the history of lubrication and informs future maintenance decisions.
By following these best practices for lubrication, you can ensure that the elastomeric spider remains properly lubricated, reducing friction, wear, and the potential for premature coupling failure.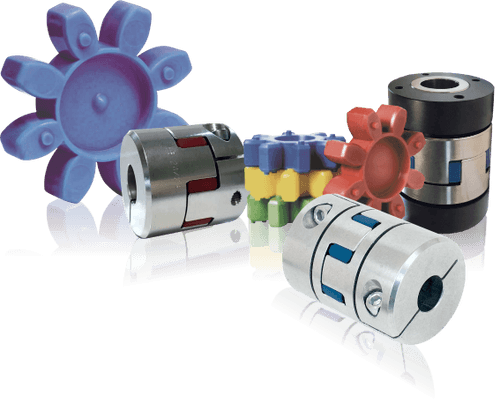 What are the advantages of using a spider coupling in industrial applications?
Spider couplings offer several advantages that make them a popular choice for various industrial applications. Here are the key advantages:
Misalignment Compensation: Spider couplings can accommodate angular, axial, and parallel misalignments between connected shafts. This ability to compensate for misalignment reduces stress on components and extends equipment lifespan.
Flexibility: The elastomeric spider provides flexibility that allows for slight movements between the shafts. This flexibility helps prevent excessive wear, reduces vibration transmission, and minimizes the risk of component failure.
Vibration Dampening: The elastomeric material of the spider acts as a shock absorber, dampening vibrations generated by rotating machinery. This can lead to improved equipment performance, reduced noise, and enhanced operator comfort.
Easy Installation: Spider couplings have a simple design with minimal components, making them easy to install and replace. Their design eliminates the need for precise alignment during installation, saving time and effort.
Torque Transmission: Spider couplings efficiently transmit torque from one shaft to another, ensuring that power is effectively transferred between connected components.
Minimal Maintenance: Spider couplings require minimal maintenance due to their self-lubricating and wear-resistant elastomeric material. This reduces downtime and maintenance costs for industrial machinery.
Compact Design: Spider couplings have a compact and lightweight design, making them suitable for applications where space is limited. Their small size allows for easy integration into various systems.
Cost-Effective: Spider couplings are relatively inexpensive compared to other coupling types, making them a cost-effective solution for a wide range of industrial applications.
Electric Insulation: In applications where electrical isolation is important, spider couplings made from electrically insulating materials can prevent the transmission of electrical currents between shafts.
Wide Range of Sizes: Spider couplings are available in various sizes and configurations to accommodate different shaft diameters and torque requirements.
Due to these advantages, spider couplings are commonly used in industries such as manufacturing, automation, packaging, material handling, and more, where flexibility, misalignment compensation, and efficient torque transmission are essential for optimal equipment performance.



editor by CX 2023-10-21