Product Description
Product Description
Plum Pad:
Plum CHINAMFG mat, full name plum-shaped elastic coupling cushion. It is used for cushioning of various heavy machinery coupling shafts. Some areas are also known as plum CHINAMFG plates. According to the material, it can be divided into polyurethane plum mat and rubber plum mat, nylon plum mat.
Plum Pad Classification:
Plum CHINAMFG mat is divided into MT type plum CHINAMFG mat, T-shaped hexagonal mat, GR star plum CHINAMFG mat, HRC hexagonal mat, NM type elastic ring, L-shaped hexagonal pad, NL nylon inner tooth sleeve, H-type elastic block, rubber gear, etc.
Plum Pad Characteristics
The plum CHINAMFG pad is used for damping, insulation and buffer transmission torque in the middle of the coupling. The torque transmitted by the plum CHINAMFG pads of different materials and different hardness is also different. The higher the hardness, the greater the torque transmitted.
Detailed Photos
Size List
Other Seals
Company Profile
Our company was founded in March 2005 and is located in HangZhou, a world-famous coastal city. We cover a total area of 20,000 square meters, including 8,000 square CHINAMFG of construction area. We have more than 110 employees, including 35 technicians and 3 senior engineers. Our company is 1 of the top 100 excellent auto parts suppliers in China. We are professional enterprise specializing in the production of seals. And we were separated from the former state-owned HangZhou Seals Factory. We have strong technical capabilities and 30 years of seal
manufacturing technology and experience. Specializing in the production of rubber products such as skeleton oil seals, sealing rings, O-rings, and rubber parts. We provide supporting services for many CHINAMFG domestic brands of engines, machinery, hydraulic press, etc.
We have the world's most advanced automatic production lines and testing equipments, such as digital projectors, electronic tensile testing machines, computerized rotorless curemeters , high-precision life test benches, etc. The annual production capacity reaches 200 million pieces. We have also passed ISO9001:2000 quality management system, ISO9001:2008 quality management system and TS16949 international certification. Products are sold to all provinces and regions of China, and exported to the united Arab emirates, Russia, Japan, Europe, the United States and other countries.
 We will continue to work hard in production, quality control, technology, research and development, management and service to achieve our business goal – – – becoming a world-class sealing enterprise.
Our Advantages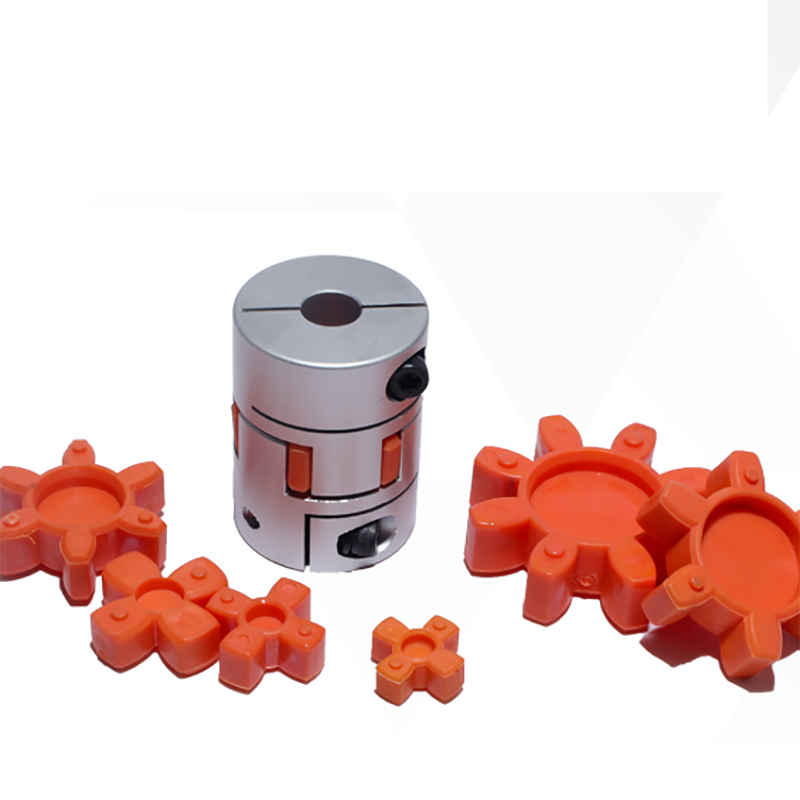 How does a spider coupling compare to other types of couplings, such as jaw couplings or gear couplings?
Spider couplings, jaw couplings, and gear couplings are all commonly used in mechanical systems for power transmission and misalignment compensation. Each type of coupling has its own unique characteristics and advantages. Here's a comparison:
Spider Couplings: Spider couplings, also known as flexible couplings or jaw/spider couplings, use an elastomeric spider to transmit torque and accommodate misalignment. They are known for their flexibility, vibration dampening, and ability to handle angular, radial, and axial misalignment. Spider couplings are suitable for a wide range of applications and are cost-effective solutions for moderate torque requirements and misalignment compensation.
Jaw Couplings: Jaw couplings consist of two hubs with curved jaws that interlock and transmit torque. They are simple to install and provide a secure connection. However, jaw couplings are less effective in accommodating misalignment compared to spider couplings. They are suitable for applications with minimal misalignment and moderate torque transmission.
Gear Couplings: Gear couplings use toothed gears to transmit torque between shafts. They are robust and capable of transmitting high torque while accommodating some misalignment. Gear couplings are often used in heavy-duty applications that require precise torque transmission and can tolerate limited misalignment.
When comparing these couplings, spider couplings stand out for their versatility in handling various types of misalignment and providing vibration dampening. Jaw couplings are simpler and suitable for applications with minimal misalignment, while gear couplings excel in heavy-duty applications with high torque requirements. The choice between these couplings depends on the specific requirements of the application, including torque, misalignment compensation, space limitations, and cost considerations.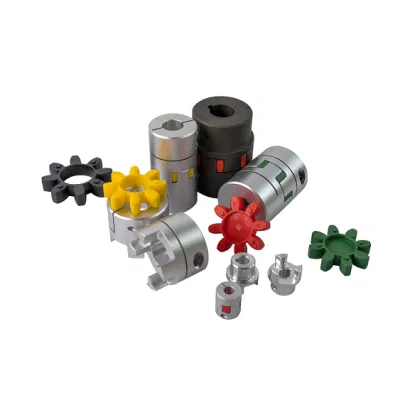 What are the best practices for ensuring proper lubrication of spider couplings?
Proper lubrication is essential for maintaining the performance and lifespan of spider couplings. Here are some best practices to ensure proper lubrication:
Use the Right Lubricant: Select a lubricant that is recommended by the coupling manufacturer. The lubricant should be compatible with the elastomeric spider material and the operating conditions of the machinery.
Follow Manufacturer's Guidelines: Adhere to the lubrication schedule and guidelines provided by the manufacturer. They will specify the appropriate lubrication intervals and the quantity of lubricant to be applied.
Clean the Components: Before applying lubricant, make sure the coupling components are clean and free of dirt, debris, and old lubricant residues. Cleaning the components prevents contamination of the new lubricant.
Apply Lubricant Evenly: Apply the lubricant evenly on all contact surfaces of the elastomeric spider and the coupling hub. Avoid over-lubrication, which can lead to excess buildup and potential slippage.
Use Lubrication Tools: Some couplings may have lubrication ports or fittings that facilitate the application of lubricant. If such features are present, use the appropriate lubrication tools to ensure thorough coverage.
Operate Coupling After Lubrication: After applying lubricant, operate the coupling for a short period to ensure that the lubricant is evenly distributed across the contact surfaces. This helps in preventing dry spots and optimizing lubrication effectiveness.
Monitor Lubricant Condition: Regularly inspect the condition of the lubricant during routine maintenance checks. If you notice signs of contamination, degradation, or insufficient lubrication, take corrective actions promptly.
Consider Operating Conditions: Environmental factors such as temperature, humidity, and exposure to chemicals can affect the performance of lubricants. Choose a lubricant that can withstand the specific operating conditions of the machinery.
Document Lubrication Activities: Keep a record of lubrication activities, including the type of lubricant used, lubrication intervals, and the results of lubrication checks. This documentation helps track the history of lubrication and informs future maintenance decisions.
By following these best practices for lubrication, you can ensure that the elastomeric spider remains properly lubricated, reducing friction, wear, and the potential for premature coupling failure.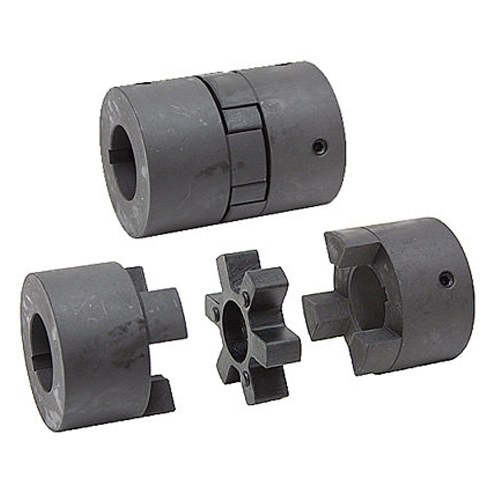 What is a spider coupling and how is it used in mechanical systems?
A spider coupling, also known as a jaw coupling or elastomeric coupling, is a type of flexible coupling used to connect two shafts while accommodating misalignment and transmitting torque between them. It consists of three main components: two hubs and an elastomeric spider or insert that fits between them.
The elastomeric spider is typically made of a flexible and durable material, such as rubber or polyurethane, with a series of lobes or fins that fit into matching grooves on the inner surfaces of the hubs. These lobes allow the spider to flex and absorb misalignments between the connected shafts while transmitting torque.
The spider coupling is used in mechanical systems to:
Transmit Torque: The primary function of a spider coupling is to transmit torque from one shaft to another. As the shafts rotate, the elastomeric spider deforms slightly, allowing the hubs to move relative to each other while maintaining torque transmission.
Accommodate Misalignment: Spider couplings can accommodate different types of misalignment, including angular, axial, and parallel misalignments, without causing excessive stress on the connected components. This flexibility helps prevent premature wear and failure.
Dampen Vibrations: The elastomeric material of the spider acts as a shock absorber, dampening vibrations and reducing the transmission of vibrations between the connected shafts. This can improve overall system performance and reduce wear on components.
Isolate Shock Loads: In applications with sudden changes in torque or shock loads, the spider coupling can absorb and dampen these shocks, protecting the connected components from damage.
Reduce Maintenance: Spider couplings require minimal maintenance due to their simple design and absence of lubrication points. This can lead to reduced downtime and maintenance costs in industrial machinery.
Provide Electric Insulation: Spider couplings can provide electrical isolation between the connected shafts, making them suitable for applications where electrical grounding needs to be minimized.
Spider couplings are commonly used in various machinery and equipment, such as pumps, compressors, conveyors, fans, and industrial machinery. They are particularly well-suited for applications that require flexibility, misalignment compensation, vibration reduction, and ease of maintenance.



editor by CX 2023-10-10