Product Description
Rotex HRC Plum Coupling Flexible Shaft Coupling Elastic Spider Jaw type Coupling 
Material
Cast Iron/Stainless Steel Flange,Rubber Spider
Model NO.
HRC70 HRC90 HRC110 HRC130 HRC150 HRC180 HRC230 HRC280
Surface Treatment
Phosphated
Bore Type
Pilot Bore,Taper bore
Packing
Carton Box,Plastic Bag,Wooden Case,Pallet
Features
1.Installation is quick and easy without special tools required, only a hexagonal wrench is needed.
2.Maintenance is virtually eliminated without lubrication required.
3.The electro metric element allows HRC to be suitable for use in most conditions.
4.In the unlikely event of the flexible element being destroyed, drive will be maintained by inner action of the integrally cast driving dogs.
Our Advantages
The HRC shaft couplings is widely used. Its characteristic is simple construction, safe and reliable in use and easy to install. Maintenance is virtually elimated and no lubricant is required in the running term. These couplings are made of GG25 high grade cast iron and phosphate for the surface to ensure strength for safe running under rated conditions.
A variety of HRC Drive Couplings and Jaw Couplings are currently available from MIGHTY. MIGHTY carries an assortment of high quality couplings, mainly HRC Drive Couplings and Jaw Couplings. If you are in need of a reliable coupling, our HRC Drive Couplings should serve your needs well. Composed of 2 halves with a star-shaped rubber unit in the centre, these couplings can fit whatever the situation calls for. They're quite easy to use and install, shipped bored or custom bored when required. The HRC drive coupling that we carry also comes in 3 styles: F-type couplings where the taperlock bush can be inserted from the inside, H-type couplings where the taperlock bush can be inserted from the outside and B-type couplings which are pilot bored and ready to be machined to the required bore.
Packing&Shipping

Package
 Standard suitable package / Pallet or container.
 Polybag inside export carton outside, blister and Tape and reel package available.
 If customers have specific requirements for the packaging, we will gladly accommodate.
Shipping

 10-20working days ofter payment receipt comfirmed (based on actual quantity).
 Packing standard export packing or according to customers demand.   

 Professional goods shipping forward.
About MIGHTY
ZheJiang Mighty Machinery Co., Ltd. specializes in manufacturing Mechanical Power Transmission Products.We Mighty is the division/branch of SCMC Group, which is a wholly state-owned company, established in 1980.
About Mighty:
-3 manufacturing factories, we have 5 technical staff, our FTY have strong capacity for design and process design, and more than 70 workers and double shift eveyday.
-Large quality of various material purchase and stock in warhouse which ensure the low cost for the material and production in
time.
-Strick quality control are apply in the whole production. 
we have incoming inspection,process inspection and final production inspection which can ensure the perfect of the goods quality.
-14 years of machining experience. Long time cooperate with the Global Buyer, make us easy to understand the csutomer and handle the export. MIGHTY's products are mainly exported to Europe, America and the Middle East market. With the top-ranking management, professional technical support and abundant export experience, MIGHTY has established lasting and stable business partnership with many world famous companies and has got good reputation from CHINAMFG customers in international sales.
FAQ
Q: Are you trading company or manufacturer?
A: We are factory.
Q: How long is your delivery time?
A: Generally it is 5-10 days if the goods are in stock. or it is 15-20 days if the goods are not in stock, it is according to quantity.
Q: Do you provide samples ? is it free or extra ?
A: Yes, we could offer the sample for free charge but do not pay the cost of freight.
Q: What is your terms of payment ?
A: Payment=1000USD, 30% T/T in advance ,balance before shippment.
We warmly welcome friends from domestic and abroad come to us for business negotiation and cooperation for mutual benefit. To supply customers excellent quality products with good price and punctual delivery time is our responsibility.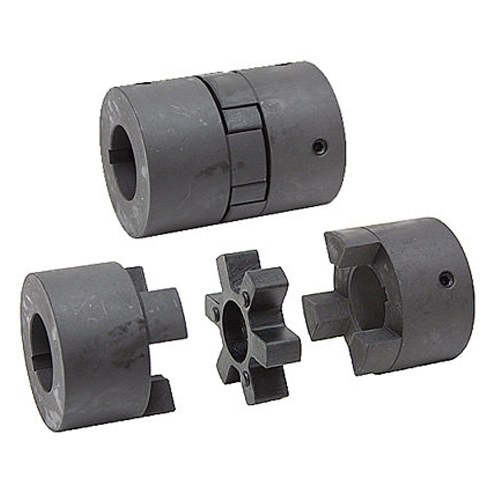 What materials are typically used in manufacturing spider couplings and why?
Spider couplings are constructed using a combination of materials to achieve durability, flexibility, and efficient torque transmission. The choice of materials depends on factors such as application requirements, environmental conditions, and the desired balance between strength and flexibility. Common materials used in manufacturing spider couplings include:
Aluminum: Aluminum is lightweight and corrosion-resistant, making it suitable for applications where weight reduction is important. It offers good mechanical properties and can be used in various industries.
Steel: Steel provides excellent strength and durability. It's often used in heavy-duty applications where high torque transmission is required. Surface treatments can enhance corrosion resistance.
Stainless Steel: Stainless steel offers corrosion resistance in aggressive environments. It's commonly used in industries such as food processing, pharmaceuticals, and chemical processing.
Cast Iron: Cast iron is known for its high compressive strength and wear resistance. It's suitable for applications requiring robust construction and can handle high torque loads.
Plastic/Polymer: Certain polymers and plastics, such as polyurethane or nylon, are used for the elastomeric spider element. These materials provide flexibility, vibration dampening, and misalignment compensation.
The choice of materials depends on the specific requirements of the application. For example, aluminum or stainless steel may be chosen for industries requiring corrosion resistance, while steel or cast iron may be selected for heavy-duty applications. The elastomeric spider is typically made from a durable polymer to ensure flexibility and effective torque transmission while accommodating misalignment. Overall, selecting the right materials ensures that spider couplings can withstand the demands of the intended application and provide reliable performance over their lifespan.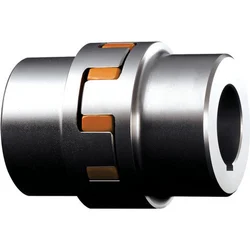 What are the symptoms of spider coupling wear or deterioration, and how can they be identified?
Spider couplings, like other mechanical components, can experience wear and deterioration over time due to factors such as torque, misalignment, and environmental conditions. Identifying the symptoms of wear is crucial for maintaining coupling performance and preventing unexpected failures. Here are some common symptoms of spider coupling wear and deterioration:
Vibration and Noise: Increased vibration or unusual noise during operation can indicate wear in the spider coupling. Excessive wear can lead to reduced dampening of vibrations and increased noise levels.
Reduced Torque Transmission: If the coupling is no longer transmitting torque efficiently, it may indicate wear or damage to the elastomeric spider. Reduced torque transmission can result in decreased equipment performance.
Visible Cracks or Tears: Inspect the elastomeric spider for visible cracks, tears, or signs of deformation. These issues can lead to uneven load distribution and compromised coupling function.
Uneven Shaft Movement: Misalignment caused by wear can lead to uneven movement of connected shafts. This can be observed through irregular motion or wobbling during operation.
Increased Heat Generation: If the coupling is generating more heat than usual, it may indicate excessive friction due to wear. Overheating can accelerate wear and affect coupling performance.
Irregular Performance: If machinery or equipment connected by the coupling experiences irregular or unpredictable behavior, it could be a sign of coupling wear affecting torque transmission.
To identify these symptoms, regular visual inspections, vibration analysis, and performance monitoring are recommended. If any of these symptoms are observed, it's advisable to replace the worn or damaged spider coupling with a new one. Routine maintenance and timely replacement can help ensure the continued reliability and performance of spider couplings in mechanical systems.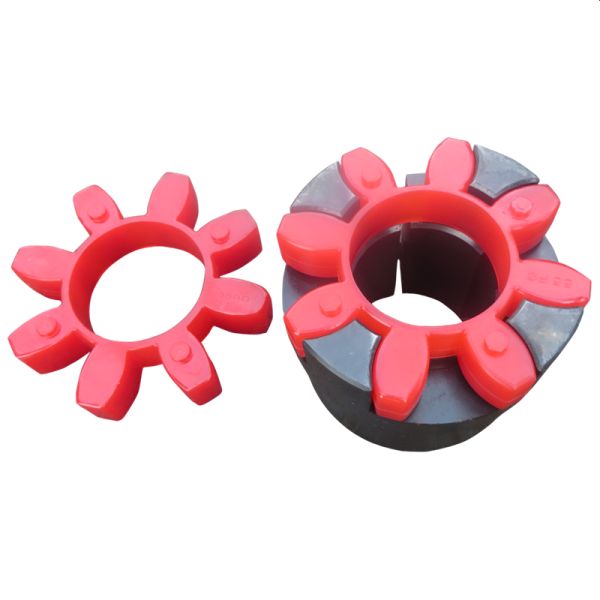 What factors should be considered when selecting a spider coupling for a specific application?
Choosing the right spider coupling for a specific application requires careful consideration of various factors to ensure optimal performance and reliability. Here are the key factors to consider:
Torque Requirements: Determine the torque that the coupling needs to transmit between the shafts. Select a spider coupling that can handle the required torque without exceeding its limitations.
Misalignment Compensation: Assess the type and degree of misalignment that the coupling needs to accommodate. Different spider coupling designs offer varying levels of misalignment compensation.
Operating Conditions: Consider the operating environment, including temperature, humidity, and exposure to chemicals or contaminants. Choose a spider coupling with elastomeric material that can withstand these conditions.
Shaft Diameters: Measure the diameters of the connected shafts. Ensure that the selected spider coupling matches the shaft sizes to achieve a secure and reliable fit.
Space Limitations: Evaluate the available space for installing the coupling. Choose a compact spider coupling design that fits within the available dimensions.
Shaft Speed: Determine the rotational speed of the shafts. Ensure that the selected spider coupling can handle the speed range without causing excessive wear or vibrations.
Vibration Dampening: If vibration reduction is a priority, select a spider coupling with elastomeric material that offers effective vibration dampening properties.
Electrical Isolation: In applications where electrical isolation is necessary, choose a spider coupling with electrically insulating properties to prevent current transmission between shafts.
Chemical Compatibility: If the machinery operates with specific chemicals or fluids, ensure that the elastomeric material of the coupling is compatible with these substances.
Cost Consideration: Evaluate the budget available for the coupling. Consider both the upfront cost and the potential savings from reduced maintenance and downtime.
Manufacturer Reputation: Choose spider couplings from reputable manufacturers known for producing high-quality and reliable products.
Application Type: Different industries and applications have unique requirements. Consider the specific demands of the application, such as pumps, compressors, conveyors, etc.
By carefully evaluating these factors, you can select a spider coupling that best matches the requirements of your application, ensuring efficient power transmission, misalignment compensation, and overall system performance.



editor by CX 2023-10-10