Product Description
Product Description
DO NOT worry about PRICE, we are manufacturer.
DO NOT worry about QUALITY, we have 16 years experience.
DO NOT worry about AFTER-SALES, we are 24 hours online.
Features :
1. The main body is made of high strength aluminum alloy
2. Zero backlash, suitable for forward and reverse rotation
3.Colloid is made of polyurethane, which has good wear resistance
4.Oil resistance and electrical insulation, the middle elasticbody can absorb vibration
5. Compensate radial, angular and axial deviations
6. Removable design for easy installation
7. Tightening method of positioning screw
Suitable for a wide range of devices
    CNC lathes                                                Optical inspection equipment
                     Module slider                                                                 Servo motor
Company Profile
Certifications
Packaging & Shipping
All products will be well packed with standard export wooden case or
cartons.
Shafts packed with paper tube or plastic bag;
Linear guideways or lead screwswrapped with film or plastic bag;
Guarantee well protected against dampness,moisture, rust and shock.
Our Advantages
FAQ
Q1: Do you have a catalogue? Can you send me the catalogue to have a check of all your products?
A: Yes , We have product catalogue.Please contact us on line or send an Email to sending the catalogue.
 
Q2: I can't find the product on your catalogue, can you make this product for me?
A: Our catalogue shows most of our products,but not all.So just let us know what product do you need.
Q3 : Can you make customized products and customized packing?
A: Yes.We made a lot of customized products for our customer before.And we have many moulds for our customers already.About customized packing,we can put your Logo or other info on the packing.There is no problem.Just have to point out that ,it will cause some additional cost.
Q4: Can you provide samples ? Are the samples free ?
A: Yes,we can provide samples.Normally,we provide 1-2pcs free samples for test or quality checking.But you have to pay for the shipping cos.If you need many items, or need more qty for each item,we will charge for the samples.
Any requirements or question,Welcome to "Send" us an e-mail Now!
It's our great honor to do services for you! You also can get the FREE SAMPLES soon.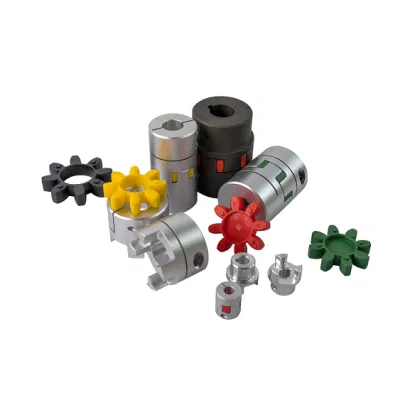 Are there any industry standards or guidelines for designing and using spider couplings?
Yes, there are industry standards and guidelines that provide recommendations for designing, selecting, and using spider couplings in various mechanical systems. These standards help ensure the safe and reliable operation of spider couplings in industrial applications. Some of the relevant standards include:
AGMA 9002-B15: This American Gear Manufacturers Association (AGMA) standard provides guidelines for the selection and application of flexible couplings, including spider couplings. It covers topics such as coupling types, misalignment, torque capacity, and lubrication.
ISO 14691: This International Organization for Standardization (ISO) standard specifies methods for testing the torsional stiffness of flexible couplings, including spider couplings. It outlines procedures for determining the dynamic torsional stiffness and related parameters.
API 671: This American Petroleum Institute (API) standard provides guidelines for special-purpose couplings used in petroleum, chemical, and gas industry services. It covers design, manufacturing, inspection, and testing requirements for couplings, including those with elastomeric elements.
While these standards offer valuable insights, it's important to note that specific industry requirements and applications may influence the design and selection of spider couplings. Manufacturers, engineers, and designers should also consider factors such as torque, misalignment compensation, environment, and system dynamics when applying these standards to their designs. Adhering to industry standards ensures that spider couplings are properly designed, installed, and used to meet the intended performance and safety criteria.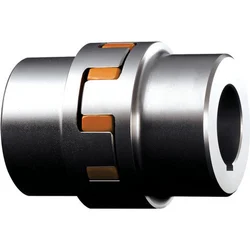 What are the symptoms of spider coupling wear or deterioration, and how can they be identified?
Spider couplings, like other mechanical components, can experience wear and deterioration over time due to factors such as torque, misalignment, and environmental conditions. Identifying the symptoms of wear is crucial for maintaining coupling performance and preventing unexpected failures. Here are some common symptoms of spider coupling wear and deterioration:
Vibration and Noise: Increased vibration or unusual noise during operation can indicate wear in the spider coupling. Excessive wear can lead to reduced dampening of vibrations and increased noise levels.
Reduced Torque Transmission: If the coupling is no longer transmitting torque efficiently, it may indicate wear or damage to the elastomeric spider. Reduced torque transmission can result in decreased equipment performance.
Visible Cracks or Tears: Inspect the elastomeric spider for visible cracks, tears, or signs of deformation. These issues can lead to uneven load distribution and compromised coupling function.
Uneven Shaft Movement: Misalignment caused by wear can lead to uneven movement of connected shafts. This can be observed through irregular motion or wobbling during operation.
Increased Heat Generation: If the coupling is generating more heat than usual, it may indicate excessive friction due to wear. Overheating can accelerate wear and affect coupling performance.
Irregular Performance: If machinery or equipment connected by the coupling experiences irregular or unpredictable behavior, it could be a sign of coupling wear affecting torque transmission.
To identify these symptoms, regular visual inspections, vibration analysis, and performance monitoring are recommended. If any of these symptoms are observed, it's advisable to replace the worn or damaged spider coupling with a new one. Routine maintenance and timely replacement can help ensure the continued reliability and performance of spider couplings in mechanical systems.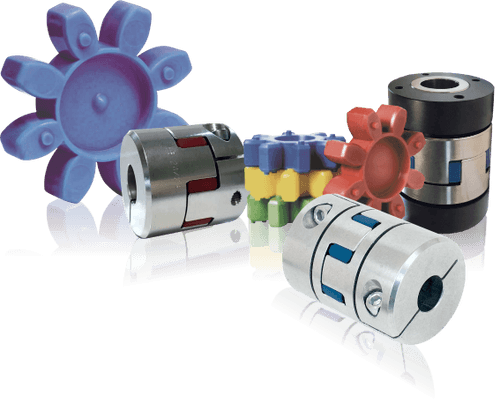 What are the advantages of using a spider coupling in industrial applications?
Spider couplings offer several advantages that make them a popular choice for various industrial applications. Here are the key advantages:
Misalignment Compensation: Spider couplings can accommodate angular, axial, and parallel misalignments between connected shafts. This ability to compensate for misalignment reduces stress on components and extends equipment lifespan.
Flexibility: The elastomeric spider provides flexibility that allows for slight movements between the shafts. This flexibility helps prevent excessive wear, reduces vibration transmission, and minimizes the risk of component failure.
Vibration Dampening: The elastomeric material of the spider acts as a shock absorber, dampening vibrations generated by rotating machinery. This can lead to improved equipment performance, reduced noise, and enhanced operator comfort.
Easy Installation: Spider couplings have a simple design with minimal components, making them easy to install and replace. Their design eliminates the need for precise alignment during installation, saving time and effort.
Torque Transmission: Spider couplings efficiently transmit torque from one shaft to another, ensuring that power is effectively transferred between connected components.
Minimal Maintenance: Spider couplings require minimal maintenance due to their self-lubricating and wear-resistant elastomeric material. This reduces downtime and maintenance costs for industrial machinery.
Compact Design: Spider couplings have a compact and lightweight design, making them suitable for applications where space is limited. Their small size allows for easy integration into various systems.
Cost-Effective: Spider couplings are relatively inexpensive compared to other coupling types, making them a cost-effective solution for a wide range of industrial applications.
Electric Insulation: In applications where electrical isolation is important, spider couplings made from electrically insulating materials can prevent the transmission of electrical currents between shafts.
Wide Range of Sizes: Spider couplings are available in various sizes and configurations to accommodate different shaft diameters and torque requirements.
Due to these advantages, spider couplings are commonly used in industries such as manufacturing, automation, packaging, material handling, and more, where flexibility, misalignment compensation, and efficient torque transmission are essential for optimal equipment performance.



editor by CX 2023-09-27